John Lewis Partnership

London Victoria
John Lewis Partnership Services took over 2 floors of a new location in London Victoria to relocate existing staff from various other older sites.
The Brief
The Brief was to create a Video Conferencing solution within a series of different room types, ranging from 2 person booths through to a 150 seater dining/function area capable of hosting the groups AGM and All hands meetings. There was also the requirement to intergrate an AV training room and several Ad-hoc meeting spaces along with numerous common area screens to show JLP's internal digital signage.
The Installation
The Installation comprised of intergrating Cisco EX90, MX-200 and Dual Profile 55 Video Conferencing solutions into the various meeting rooms. The 18 person Training room comprised of an Epson EB-G5750W projector, 2.3m electric ceiling recessed screen, Cisco C60 Codec and an AMX 3150HD 10×4 All in one presentation switcher to take care of the switching and control. This was intefaced with an ipad running AMX TP Control App to act as a 10" wireless control panel. The same set up was replicated within the Dining/Function room complete with dual projectors and 7 x wireless Toa mics mixed through a ClearOne SR1212 digital mixer. The requirement was to also provide a Webex feed for remote viewing of the meetings held, this was done by taking an additional feed out of the AMX 3150HD to a local output plate. The install was completed on time and within budget.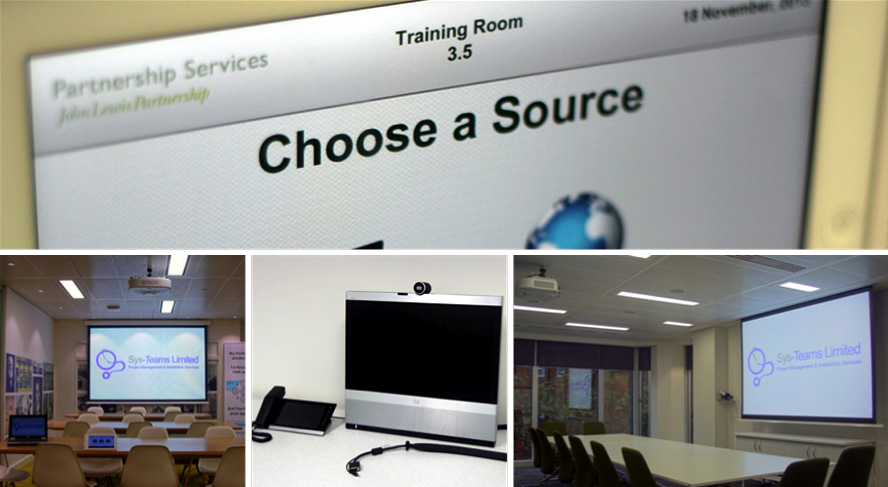 SEE MORE OF OUR CLIENT WORK >